How to Scrape Google Maps Reviews ?
Updated 12/6/2022
Online reviews from customers have great importance in the world of digital marketing. Now people prefer to view online reviews about restaurants before trying them. Because of this reason companies make sure that they get positive reviews from customers.
Google Maps also collects customer reviews data and shows it to people. There are a lot of reasons why a person may need to scrape Google Maps reviews. A businessman may need to do this to understand and analyze the progress of the business.
Whatever the reason is, a
Google Maps Scraper
is the standard choice that is made by most people who require scraping google maps reviews. We have described the whole process through which you can easily scrape Google Maps reviews of a place without putting in a lot of effort and time.
Installation of Google Maps Extractor,
How to Install G Maps Extractor Chrome Extension Manually ?
What Is Google Maps Review Scraping?
Google Maps review scrapping is the process of extracting review content from Google Maps by using a
Google Maps Reviews Scraper
. The Google Maps Reviews Scraper does not only find the data but also saves it in a structured format.
Google Maps is an amazing platform where you can extract all kinds of invaluable information including reviews. Because of these reasons Google Maps is used by many businesses. By using the reviews analysis and competitor analysis strategy many restaurants and organizations monitor their market growth rate.
Following are some of the main reasons why a person needs Google Maps review scrapping:
Monitoring Brand Progress
By analysis of reviews, you can get to know about the negative and positive thoughts of customers. By using an efficient Google Maps review scraper like G Maps Extractor a business can scrape and extract google maps reviews in bulk along with other useful information.
Monitoring Competitors
You can search and monitor your business competitors' reviews and get to know about their offers and how you can provide your customers with better services.
How To Scrape Google Maps Reviews?
Whenever you need to scrape and extract Google maps reviews, Google Maps Extractor is the best available option. It is a reliable and authentic platform that lets you extract useful data from places on Google Maps including reviews.
Google Maps Extractor offers you a straightforward way to extract the content of the reviews from google maps and also export to CSV file. All you need to do is add its extension to the browser and follow the easy steps described below:
Step 1.
Click on the Google Maps Extractor extension icon from the taskbar of your browser and choose the Open Google Maps option from the drop-down menu. It will directly take you to Google Maps.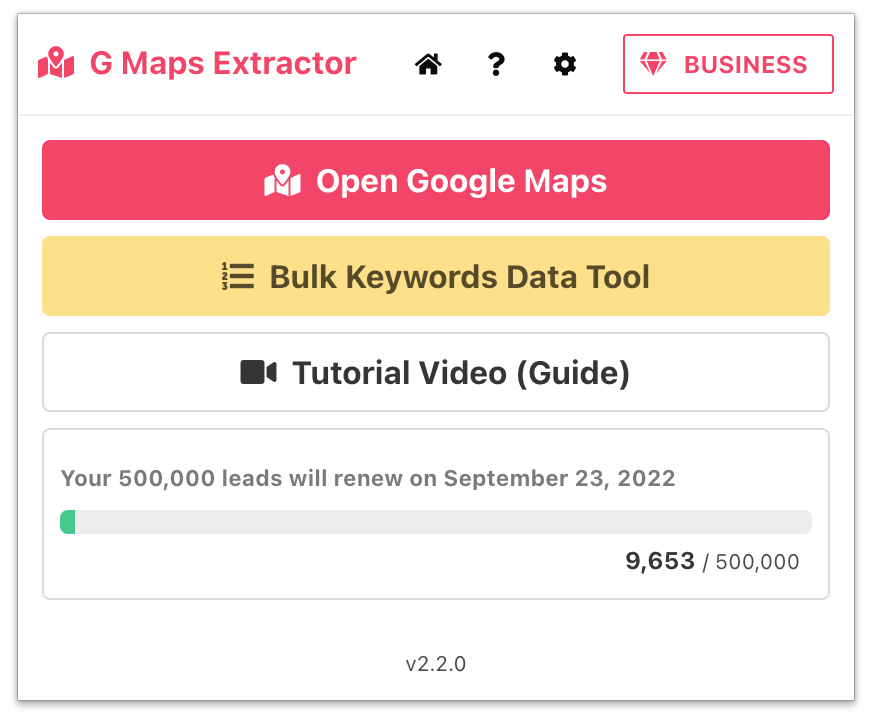 Step 2.
Search and select the desired place and click on the "Start Extracting Reviews" button. Immediately the extraction process will start.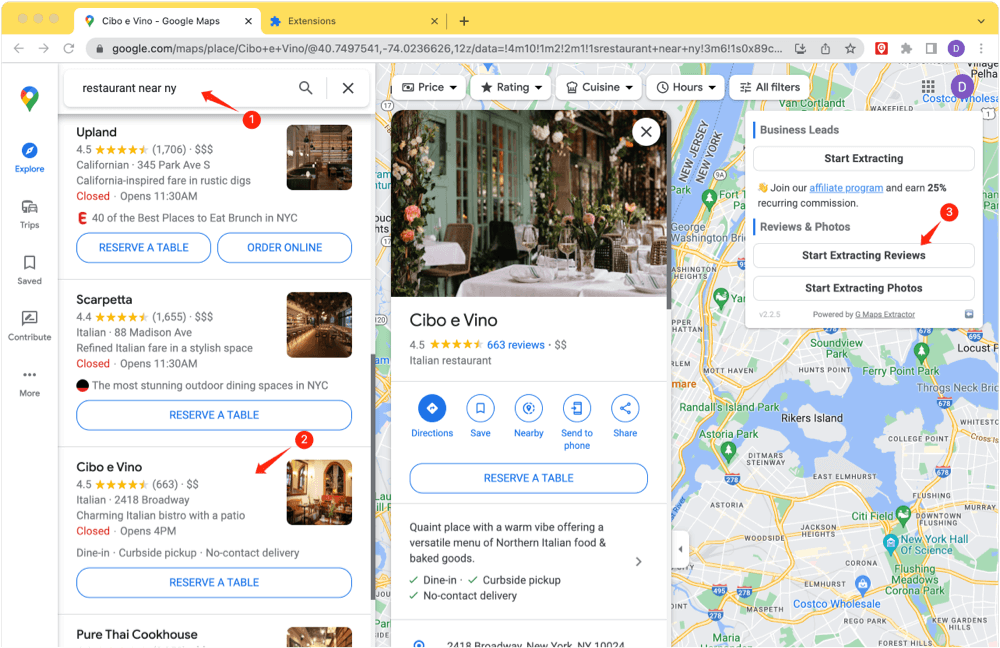 Step 3.
After completion of extraction, you can download the CSV file by clicking on the Export Review List option. The downloaded file will contain the author of the review, the review text along with the Review rating, date, photos, likes, owner answer, author profile link, and much more.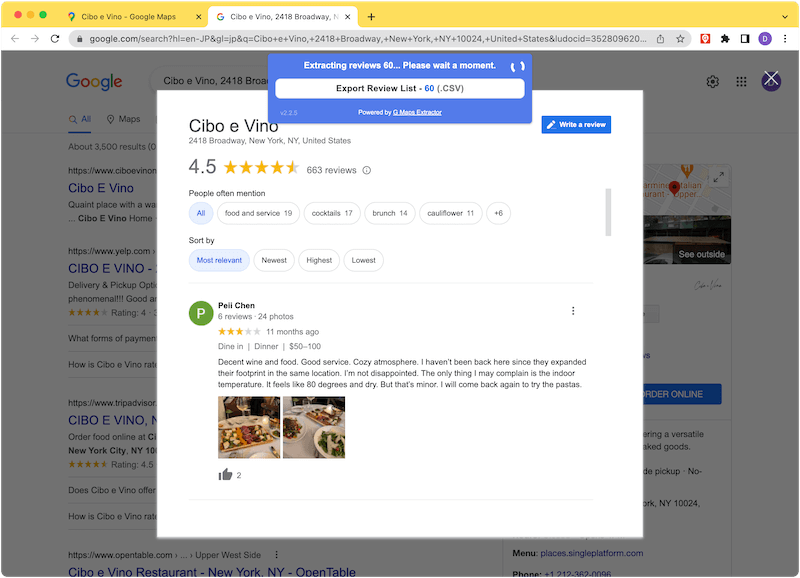 Ending Remarks
Google Maps Reviews are helpful for businesses, they can scrape reviews from places in bulk and export the content in a file by using an efficient Google maps scraper like G Maps Extractor. It is a helpful way to analyze a business's growth and monitor the competitor's offers.
Analyzing Google Maps reviews can also provide valuable insights, helping businesses understand how customers view the enterprise and identifying areas for improvement. This information can be used to make necessary changes to improve the customer experience, ultimately leading to increased customer satisfaction and loyalty. In addition, analyzing Google Maps reviews can help businesses better understand the needs and preferences of their target audience, which can be useful for developing effective marketing strategies and improving the overall quality of their products or services.